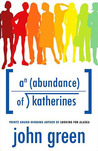 An Abundance of Katherines
by
John Green
My rating:
4 of 5 stars
I had never heard of John Green until Rainbow Rowell, who is a friend, was excited that he, like she, was coming to an author panel that was being set up by another friend who runs a great independent bookstore. "John Green is a MONSTER get!" she proclaimed.
So I read
The Fault in our Stars
. I laughed. I cried. It was good. Well-written, not typical, etc. I realize writing this review that I never wrote a review, so I sure need to do that, but my problem with
Fault
was the contrivance of the Dutch author and how that all fit into the story. I found it not real in a book that was extraordinarily real.
Fast forward to
An Abundance of Katherine
. Contrived story line but one that felt real regardless, perhaps because I have a bright kid who some consider to be a prodigy and Colin's concern that prodigies only learn but geniuses do is something I can already see my kid contemplating. And the question of how to "matter" is one that still echoes in my own life.
But beyond all of that, I enjoyed this book more than
Fault
. Maybe it's because it didn't make me cry. Maybe it's because I love stories that are compartmentalized to give you a sense of place (Gutshot). Maybe it's because the set-up was so unreal, yet real, that there was nothing jarring in it that pulled me out of the story to question the contrivance. Or maybe it was the ideas floating around in these kids' heads;
"I think mattering is a piss-poor idea. I just want to fly under the radar, because when you start to make yourself into a big deal, that's when you get shot down. The bigger deal you are, the worse your life is. Look at, like, the miserable lives of famous people...there's a word in German for it...Schadenfreude."
"Son, if there's one thing I know it's that there's some people in this world who you can just love and love and love no matter what."
"You're so goddamned scared of the idea that someone might dump you that your whole fugging life is built around not getting left behind. Well, it doesn't work,
kafir
. It's just--it's not just dumb, it's ineffective. Because then you're not being a good friend or a good boyfriend or whatever, because you're only thinking they-might-not-like-me-they-might-not-like-me, and guess what? When you act like that, no one likes you."
"Do you ever wonder whether people would like you more or less if they could see inside you? If people could see me the way I see myself--if they could live in my memories--would anyone,
anyone
love me?"
"I'm full of shit. I'm never myself. I've got a Southern accent around the oldsters; I'm a nerd for graphs and deep thoughts around you; I'm Miss Bubbly Pretty Princess with Colin. I'm nothing. The thing about chameleoning your way through life is that it gets to where nothing is real...the only sentence that begins with 'I' that's true of me is
I'm full of shit
.
"The past is a logical story. It's the sense of what happened. But sense it is not remembered, the future need not make any fugging sense at all."
"Books are the ultimate Dumpees: put them down and they'll wait for you forever; pay attention to them and they always love you back."
View all my reviews