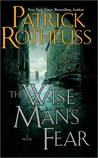 The Wise Man's Fear
by
Patrick Rothfuss
My rating:
4 of 5 stars
As I was reading this one, my 11 year old son was halfway through
The Name of the Wind
. He and I were sitting on the couch, both reading, when I gritted my teeth and sucked in my breath.
"What?" he asked, alarmed. "Did something awful happen?"
"No," I replied. "There's just a sex scene and I'm wondering whether I can let you read this book now."
"Oh," he said. "Felurian? I already guessed about her. It's on the back of this book, see? 'I have spent the night with Felurian and left with both my sanity and my life.' I'm ready. I already know they have a lot of sex."
Oh. Ok. Well. Carry on then, not-yet-12-year-old.
I liked this book. Not as much as the first book, but enough that I read it quickly and found myself thinking of the characters and the story-line when I wasn't reading.
I've read some reviews that complain about the tangential nature of the story. But that's life, isn't it? Wandering from thing to thing without a clear path, though a path sometimes reveals itself in hindsight. Kvothe is on such a circuitous path. He has cunning, strength and a hell of a lot of luck. He is also curious and dedicated to justice, which causes all of his tangents.
I was fascinated by the Adem; to imagine a society where facial expressions are discouraged and physical movement instincts are always wrong. It was like Bulgaria writ large; in Bulgaria, shaking your head means yes. Nodding it means no. I did not realize how often I unconsciously move my head when assenting or refusing; one night, I ended up three sheets to the wind because I kept accidentally telling the waiter I wanted more wine. My words said no, but my head said yes. With the Adem, I imagined trying to navigate learning a whole new way to express what we tend to intuit.
Respectful Fascination.
View all my reviews